28-08-10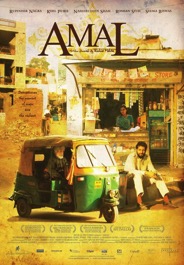 When do we know what is enough?
Richie Mehta's debut feature as a writer/director follows a young, pure-hearted rickshaw driver named Amal (Rupinder Nagra) as he goes about his business of driving customers around New Delhi, day in and day out. When Amal meets the fabulously wealthy G.K. Jayaram (Bollywood star Naseeruddin Shah), the patriarch of a rather spoiled, rich family, the courses of both their lives change. Not that Amal is aware of any of it.
See
IMDB
Read review by
Motion Reviews
Questions For Discussion
Does the movie 'Amal' shed light on the answer to the question: when do we have enough?


Does the movie, unintentionally or not, idealize the poor?


What biblical stories does the movie 'Amal' remind you of?


Was Amal a workaholic or was he exercising a spiritual vocation?


Why did Amal really accept Pooja's gift?


In what ways does the movie represent the upside-downness of the Kingdom?


How was Amal able to be happy in such a crazy environment?


What were telling signs of Amal's true character?


Why or how did the old man think of his intended gift to Amal as redemption for his own life?


Explain the possibly enigmatic comment: "If he didn't accept my 3 rupees, what would he have done with 300 million?


Did Amal work for the money, or was there a deeper vocation involved?


'Amal' is setup as a modern day fable. What is it trying to say?


"Sometimes the poorest of men are the freeist?" How can this be so? How can we be free whatever our circumstances?


How far are we from Amal's self-forgetful joyful service? What stands in our way?


If Amal was able to read, how would this have changed him? Or would it have?


Bonus: compare 'Amal' with the book 'White Tiger'?