28-05-11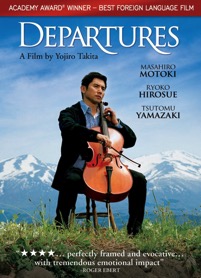 The gift of last memories.
Daigo Kobayashi is a devoted cellist in an orchestra that has just been dissolved and now finds himself without a job. Daigo decides to move back to his old hometown with his wife to look for work and start over. He answers a classified ad entitled "Departures" thinking it is an advertisement for a travel agency only to discover that the job is actually for a "Nokanshi" or "encoffineer," a funeral professional who prepares deceased bodies for burial and entry into the next life. While his wife and others despise the job, Daigo takes a certain pride in his work and begins to perfect the art of "Nokanshi," acting as a gentle gatekeeper between life and death, between the departed and the family of the departed. The film follows his profound and sometimes comical journey with death as he uncovers the wonder, joy and meaning of life and living.
Watch
Departures
trailer
See
IMDB
Read review by
Dick Steel
Questions For Discussion
How does the movie's cello music relate to the movie's theme of finding your vocation?


What is the significance of using 'stone letters' to communicate in relationship?


Why were the 'encoffiners' so interested in eating?


Why are we normally so unwilling to think and talk about death?


How would seeing death as a 'gateway' change our attitude towards death and dying?
How does the movie's idea of fate relate to the Christian idea of calling?


Daigo undergoes a kind of death as he learns the art of Nokanshi. Do you think suffering is an inevitable part of entering your calling? Why or why not?


Describe how the marriage changed over the course of the movie?


What hinders you from entering your calling more deeply?