26/10/19 19:00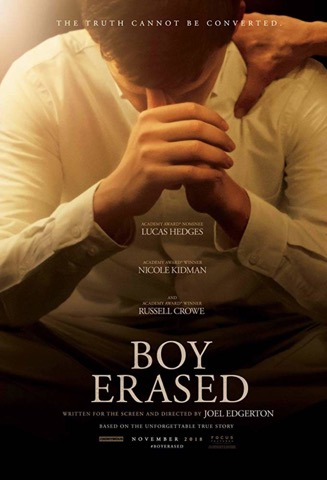 "Boy Erased" tells the story of Jared, the son of a Baptist pastor in a small American town, who is outed to his parents at age 19. Jared is faced with an ultimatum: attend a conversion therapy program - or be permanently exiled and shunned by his family, friends, and faith. Boy Erased is the true story of one young man's struggle to find himself while being forced to question every aspect of his identity.
Watch Trailer
Read Review from Rolling Stone Magazine
Discussion Questions
What is your favourite scene or line?


How is this a film about evolving self-knowledge -- for all the major characters? What does Russell Crowe's father learn? What does Nicole Kidman's character learn? Jared?


Do you imagine a true reconciliation ever between father and son? Why or why not?


When Scripture and life experience seem to conflict we tend to either dump faith or deny experience. How would you counsel someone facing this dilemma?


Why do you think pseudoscientific gay conversion therapy is still a thing?


Enter a dubious therapy or be shunned by family, friends and faith community. What 'crucible' dilemma have you had to face and how did you get through it?


What wisdom saying or Scriptural story clarifies your view on how to respond to conflicts about accepting gay/lesbians into your community?