11-10-14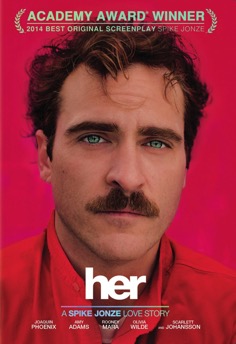 Theodore is a lonely man in the final stages of his divorce. When he's not working as a letter writer, his down time is spent playing video games and occasionally hanging out with friends. He decides to purchase the new OS1, which is advertised as the world's first artificially intelligent operating system, "It's not just an operating system, it's a consciousness," the ad states. Theodore quickly finds himself drawn in with Samantha, the voice behind his OS1. As they start spending time together they grow closer and closer and eventually find themselves in love. Having fallen in love with his OS, Theodore finds himself dealing with feelings of both great joy and doubt. As an OS, Samantha has powerful intelligence that she uses to help Theodore in ways others hadn't, but how does she help him deal with his inner conflict of being in love with an OS? Many questions arise from this philosophical exploration on the boundaries of consciousness and love. Does Theodore's relationship with Samantha is preventing him from having a more satisfying relationship with a female human? Can Theo and Samantha be truly can bonded in all aspects , being two different beings? What are the consequences if Samantha's quick evolution means that she will evolve even further to her own form of self-fulfillment?
Questions For Discussion
What effect does Theodore's job as a fantasy letter writer-for-hire have on his own relationship challenges?


What went wrong with Theodore's failed marriage?


How did the film use cinematography to make Samantha seem real?


Were you surprised by the ending? Why or why not? What do you think are Amy and Theodore's next chapter?


What questions does the movie raise about the evolution of consciousness?


After viewing 'Her', are you more cynical or hopeful about the potential for artificial intelligence in the not-too-distant future? Why?


When Samantha reveals her relationships with other humans, she states that her 'love' for Theodore is undiminished. How is that true or not true in our own relationships?


Did the fact of Samantha not having a body make a difference to the relationship?


The idea of relating intimately to a non-corporeal being is not new. How does this movie make you think differently about God, and about the possibility of living as if Jesus was living instead of dead?