21-07-12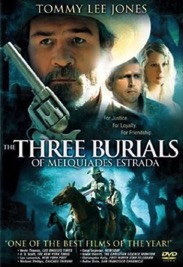 As the title implies, Three Burials is a movie about death, but, more than that, it's a movie about friendship, grace, justice, and above all redemption. Tommy Lee Jones stars as Pete, a rugged Texas cowboy who's hard up for a new hand to help him with his daily chores. Help comes in the form of Melquiades (Julio Cedillo), a Mexican alien looking for work to help support his wife and three kids. Mel promises to work hard, Pete promises not to turn him in to border patrol, and the two become good friends. But when Mel is discovered buried in a hasty unmarked grave, Pete undertakes to fulfill his promise to bury his friend in his home town. In the process he discovered who killed him and so begins a journey that could end badly in so many ways.
See
IMDB
Review from
Christianity Today
Movie Trailer from
Rotten Tomatoes
Questions For Discussion
This film plays with a sense of time. Do you think this device aids or obscures the story the movie is telling?

What were Pete's intentions in taking Mike on the journey? Do you think Pete accomplished what he set out to do?

What do you think the TV shows in the background are about?

What character are you drawn to? Which one repulses you?

Do you think Mike was changed by what happened to him? In what way?

What is the significance of three burials?

Is there any scripture or work of literature that comes to mind when watching this film? Explain.

Was there a scene or section of dialogue that strikes you?

What does it take to transform our characters?

Do you believe some people are beyond redemption?

Thinking back to question #4, what would be a question you would ask a character you're either attracted to or repulsed by?